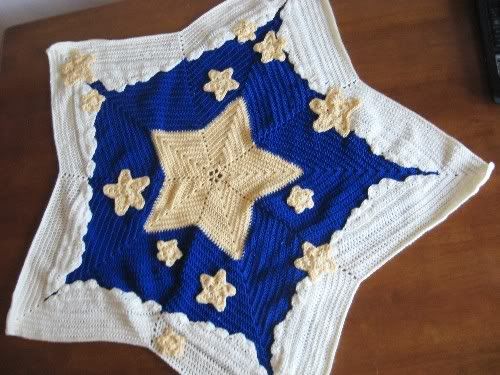 I thought I'd just talk today about crochet stuff that is going on in my life.

I just finished this adorable baby blanket for a friend. I love how it turned
out!! I used this
pattern by InnerChild Crochet and this
one
by Beth Parsons. The yellow and white are NaturallyCaron Spa and the blue is
Sinfonia.



I'm also currently working on my new free pattern for March. I hope to get it
out late next week because I need to get to work on a pattern for publication.
All I'll tell you about the free one is to start looking for your favorite sock
yarn!

I'm also busy stocking my
etsy shop with lots of finished items. I got all my inventory back from The
Pink Zebra and now I need to list it all. There are some great deals!! And if
you see something you like, make me a deal!! I'd love to get rid of some of this
stuff....I have no idea where to put it all!!

And I'd like to introduce you all to Miss Mimi!! Isn't she the sweetest??? I've
been in need of a good head mann
i for a long time now....and I finally found the
perfect one!! Now, if only I could find a cute child sized head manni! LOL!!
Lately I've also started listening to the Getting Loopycrochet podcast by Mary Beth Temple! Unfortunately I don't get to listen to it live on Monday nights, but I love listening to it on Tuesdays or Wednesdays while working on the computer. This week her guest was Amy of Crochetville and I loved last weeks interview with Vashti on crochet fashions!
OK, enough blabbering for now! I need to get back to listing on etsy and working on my new crochet pattern!! Happy crocheting!