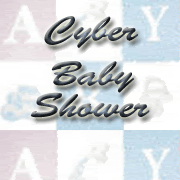 It's cyber baby shower time!! And I want to participate! This shower is for Margie Gunn of
Chesapeake Ribbons
!
Right now we are playing games, so here are my answers!
#1~there are 125 jellybeans in the baby bottle
#2~sorry.....no pictures of my baby bump, LOL!!
#3~there are 54 diapers in the cake
#4~sorry, not enough time right now to share my labor/delivery story....maybe another time!
My top 5 prize choices are...
My Pink Zebra Boutique
....hehehehe!
P
illowcasegram
Stuff for sprouts
My Mommys Bracelets
Chesapeake Ribbons